Performer's Perspective: A Glance at Nora's Lost – Weddington's 2019 NCTC Piece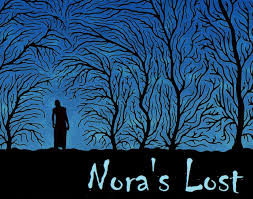 Performer's Perspective is a series of articles written by Weddington High School actor, singer, dancer, and performer Kaleb Dufrene. The articles give Kaleb's perspective of performing on stage at Weddington High in events such as Show Choir/Chorus, Unscripted, NCTC, the fall play, and the spring musical, among other special events.
---
Every year, Weddington High School's Theatre Department participates in the North Carolina Theatre Conference. Dubbed "NCTC", the conference hosts hundreds to thousands of student artists, directors, parents, and actors across many regional sites.
Weddington's Theatre Department has a traditional public viewing of their piece for that respective year, in which the public can openly critique and give constructive criticism to the actors before their final week of rehearsal and performance at the NCTC regional conference that Friday. This year, the public viewing date is Monday, October 28th at 7 PM. The cost is $5 and a special session that includes public critique will take place afterward.
Weddington's piece for this year is called Nora's Lost. The play by Alan Haehnel highlights on Nora Blodgett, a woman struggling with the spiraling effects of dementia. Nearing her death, she remembers her struggles as well as the happy moments of her life. Once she is accidentally misplaced at a nursing home and wanders off, she ventures into the wilderness. The story is told through Nora's point-of-view as well as with an ensemble of many shadows that play different characters in her life.This captivating story doesn't fail to highlight the struggles that many with dementia and Alzheimer's face. The story challenges its audience to instead listen to the struggles of those with mental remembrance diseases as they, too, face difficulty communicating.
As an actor in this show, I can say sharing stories like these is the utmost challenging. Establishing emotional credibility and enclosing what a victim to dementia or Alzheimer's is feeling can be draining. However, sharing these stories and spreading awareness for these diseases is what makes acting on that stage all worthwhile. I encourage you if you choose to come see Nora's Lost, to keep victims in mind. I encourage you to listen to someone with mental aging diseases and to hear what they have gone through. I encourage you to not get frustrated if a grandparent or family friend struggles to remember as we should remember for them. Victims of Alzheimer's or dementia sometimes can't speak up for themselves and spread awareness for themselves, so it is our job to it for them. Nora's Lost is a powerful metaphor for the mental state of many struggling with these diseases. Yes, she is lost literally, but the effect of the disease on her mind has her lost figuratively as well. I hope that you will go to see this show not for the sole purpose of helping our department advance, but also for the purpose of remembering for the victims and to help spread awareness to those suffering.
Note: Some content may be disturbing to others. Depictions and descriptions of war along with sound effects of gunfire are present. Produced with special arrangements by Playscripts, Inc.