Ya Got Trouble: Weddington High School's Spring Show Premieres This Week!
Like most things, WHS's Theatre Department had restricted activity due to Covid-19 regulations in the past 3 years. Our production of Rogers and Hammerstein's Cinderella, which was set to show in Spring of 2020, was never performed and cut short due to the pandemic. Which means that for the first time in 3 years, Weddington High School is performing a musical!
Whaddya Talk?
This year, our musical is The Music Man, a classic written in the 1950s and produced on Broadway in the subsequent years. The musical centers around Harold Hill, a traveling con man who makes a stop in River City, Iowa, looking to scam the town by posing as a boys band leader. However, the town librarian and music teacher, Marian Paroo, along with the town's Mayor, seem to catch on. Will Hill be able to fool these stubborn Iowans? Will his ruse be exposed? Or will Harold Hill find a reason to change his ways in this small town? Come find out! Read below for show night and ticket information.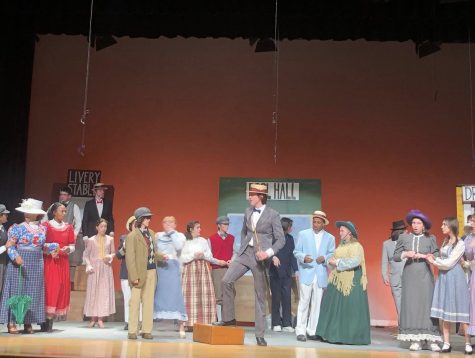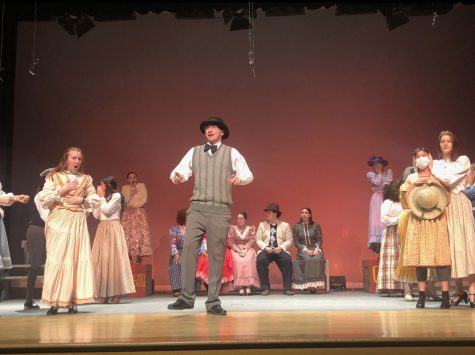 Meet the Cast: Why should people see The Music Man?
Our quick-witted librarian, Marian Paroo, is played by senior Sophia Randazzo.
"The theatre department at Weddington High School always puts on a wonderful performance. The Music Man is no different! This is a very fun piece worth watching, and it always pays off to support your peers and classmates, especially when coming to see the show directly funds future performances. Plus, the cast, crew, and band has put in a lot of effort into this show– the music and songs are incredibly difficult. Suppose that's why they call it the Music Man."
Our comedic Irishwoman, Mrs. Paroo, is played by Alyssa Holmes.
"The Music Man is a great family experience for people of all ages, with the life lesson of love heals. Although its a time piece, there's quite a few quirks to this show that the audience will enjoy, much like our cast and crew already has."
Our boisterous Mrs. Mayor, Eulalie Mackecknie Shinn, is played by senior Hailey Bennett.
"People should see The Music Man to appreciate the amount of work we have all put into the show. Since January, we have been in the auditorium trying to construct a musical with barely any prior knowledge of how. Only six of the current seniors you will see on stage was in Mamma Mia our freshman year. Help support our arts program and appreciate the amount of time and effort we have all put into this show by coming out to see us!"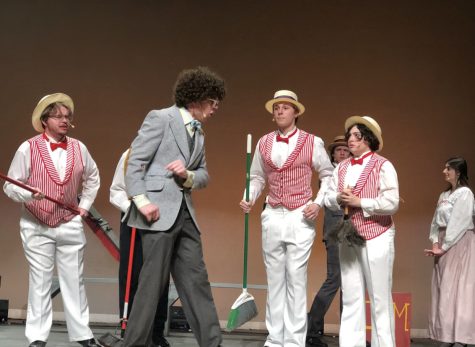 Pick A Little, Talk A Little
Tell your friends about the show! The theatre department can only put on shows if people come out to see us. Every ticket counts, and we use this revenue to put on amazing shows in the future! The Music Man is a fun show to see with friends, with family, or individually! And, if you saw Mamma Mia in 2019, you know that Weddington's musicals are like no other. Performances are April 7th, 8th, and 9th at 7:00pm.
Where to Buy Tickets
Tickets can be purchased online. Go to Weddington High School's domain page, and on the main page, click on "Performing Arts". There, you will find a link to tickets for each show night. This link can also be found below. Tickets are tiered, and cost $5, $7, or $9. You can pick your seat, and therefore your ticket prices. We hope you give Iowa a try!