Still-Life by Chardin Purchased For An Unprecedented Price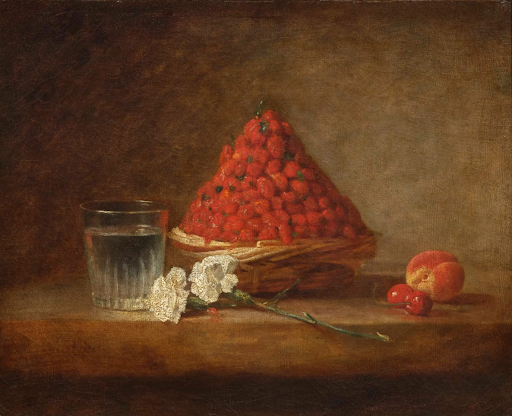 Jean-Baptiste-Siméon Chardin was an 18th-century French painter who specialized in still lifes (paintings featuring only inanimate objects lying still), and he was recognized as a master in that genre. The subjects for his paintings ranged from peaches and pomegranates to tureens and goblets. One of his still lifes, in particular, recently caused a stir in the art industry when it was auctioned off for an unprecedented 24.4 million euros ($26.8 million), causing the Louvre Museum itself to intervene in the proceedings.
The painting in question is Basket with Wild Strawberries, completed around 1761. It prominently features a heaping pile of strawberries, a glass of water, and two white carnations. The Parisian auction house that sold the painting, Artcurial, praised its composition, stating that "The painter's virtuosity is apparent in the incredible transparency of the water in the glass, the representation of the fruits that is both precise and fluid, as a whole form, thrown into relief by the white marks of the two carnations whose stems break up the regularity." The painting is also unique, being the only painting by Chardin that depicts strawberries.
On March 23, 2022, Artcurial presented the painting in their auction house in Paris. It was estimated that it would be sold for about 15 million euros ($16.5 million), but its price instead skyrocketed to €24.4 million, the highest price any 18th-century French painting has reached in an auction. After a bidding frenzy, Adam Williams, an art dealer from New York, obtained the painting.
But the story did not end there. The largest art museum in the world, the Louvre, blocked the sale of the painting, declaring that it was a national treasure of France. The Louvre already owns 41 paintings by Chardin, and it seems intent on adding this one to its collection as well.
However, claiming the work may not be very easy for the Louvre. The museum raises only about $6-7 million per year for new acquisitions, so whether it will be able to afford the painting at all is still up in the air. All things considered, the final fate of the strawberries remains unknown.
References:
Escalante, Shanti. "Louvre Blocks Sale of Chardin Painting of Strawberries."

ARTnews.com

, 1 April 2022, https://www.artnews.com/art-news/news/the-louvre-has-blocked-a-record-26-8m-sale-of-a-chardin-so-it-can-buy-the-painting-1234623805/. Accessed 4 April 2022.

"Jean-Baptiste-Simeon Chardin."

Jean-Baptiste-Simeon Chardin – The Complete Works – jean-baptiste-simeon-chardin.org

, https://www.jean-baptiste-simeon-chardin.org/. Accessed 4 April 2022.

Kinsella, Eileen. "An Unassuming Chardin Strawberry Painting Fetches a Record-Shattering $26.8 Million at Auction, Shocking Market-Watchers."

Artnet News

, 25 March 2022, https://news.artnet.com/market/chardin-strawberry-still-life-auction-2090116. Accessed 4 April 2022.

Noce, Vincent. "Louvre suspends sale of Chardin's record-breaking strawberries."

The Art Newspaper

, 1 April 2022, https://www.theartnewspaper.com/2022/04/01/louvre-blocks-sale-of-chardins-record-breaking-strawberries. Accessed 4 April 2022.