How High An Honor? The Worth of Honor Societies, According to Students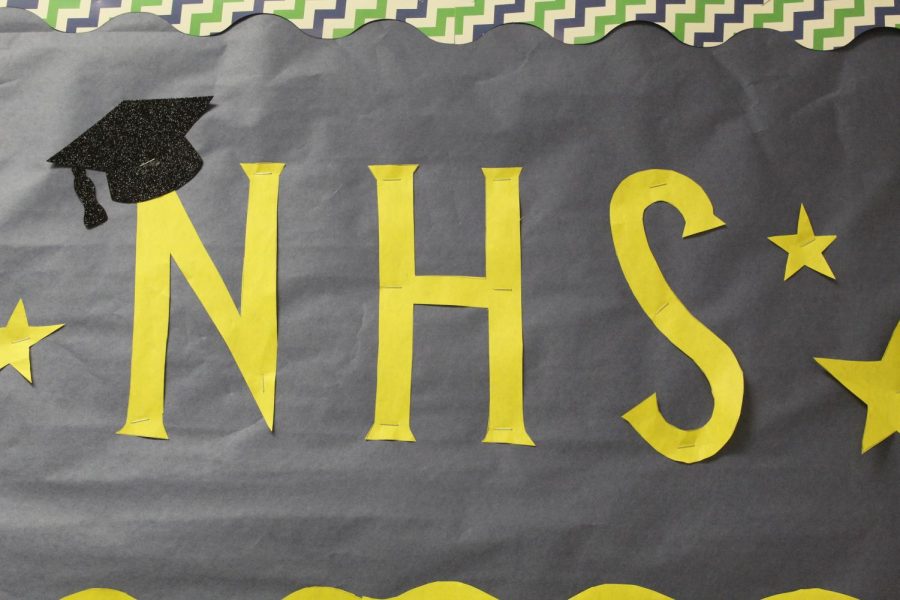 It starts with the endless interest meetings, invites, and acceptance letters each year. Following this, a frenzy of early morning meetings and service hour collection ensues, only stopping with the mark of the semester's end. As each year passes at Weddington High School, the number of honors society members grows, as do the number of societies themselves. These honor societies (Beta Club, National Honor Society, and History Honor Society to name a few), have large portions of the student population striving to become members, specifically juniors and seniors. With their numerous benefits, many students flock to the opportunity to join one or many. However, some students find themselves ineligible or uninterested. This brings forward a question as to how important these academically-based extracurriculars are to the student body, and why students chose to or chose not to join them.
The incentives to join are something of the high-achieving student's dream: graduation cords, certificates adorned with shining seals, and a dazzling activities section in their college applications. As for the requirements to get in, many Weddington students find themselves meeting or exceeding the GPA and required courses for acceptance, but the choice to apply is up to the individual. Asking students who are in one of these organizations, almost all cited their main reason for participation being potential use for college applications, followed closely by the idea of graduation cords at the end of their senior year. These students, such as one senior, emphasize that they "look good on college applications" because they "allow [students] to use [their] knowledge of subjects in an alternate way to how it is used in class." This goes for most subject-specific groups, such as Mu Alpha Theta (the math honors society), English Honors Society, and Science Honors Society, who emphasize academic success in their specific course areas. Unlike these, however, are the more general societies, such as Beta Club or National Honor Society (NHS). These societies expect a larger range of academic and extracurricular achievement from their members, yet do not necessarily offer these out-of-class academic applications. This then begs the question, what are our students gaining from these more general societies?
NHS and Beta alike are highly competitive and prestigious societies offered in schools, with both minimum GPA requirements as well as full applications to be completed if interested in becoming a member. With each application expecting good grades, volunteer work, and school-sponsored activity participation, it takes time and dedication to get in when considering the work needed to create the desired member resume as well as the application itself. Once a member, a number of service hours and meeting attendance are expected out of each student to maintain good standing within the club, facing probation or removal from membership as penalization. For these societies specifically, students gravitate toward them due to their representation of overall academic excellence, one student saying they "joined because it would look good on college applications and resumes," later referencing that only one of their several honor society memberships had real significance to them as it was subject specific, not broad like NHS or Beta Club. Having high member expectations and competition compared to the low amount of reward other than community service and honors recognitions, one could question how high a priority these activities are in a student's life.
According to most students, their honor societies rank quite low on their priority list until it comes down to the need for volunteer hours or resume completion. As stated previously, high amounts of community service are expected of students in these clubs, but most students seem to do the hours only as needed, with some even waiting until the last minute to complete them. "Generally it's pretty manageable," said one student, a member of four different honor societies, "I make sure to complete all the requirements and contribute in any way I can… but it's hard to make a big impact on the club because there are so many members." Asking several others, most put their participation in these societies below their regular extracurriculars, seeing them as an additional responsibility. As for the student population who have chosen not to become a part of an honor society, these students see them as something that "takes away from other after school activities" and are too focused on counting up funds and meeting attendance to care about the actual volunteer work they do. "Most of the clubs will kick you out if you can't attend a meeting," said one student who chose not to apply for any honors society, expressing her dislike for the strict rules and mandates accompanying them. "I like more hands on volunteer work," she continued, saying that she is still "in quite a bit of other extracurriculars, about five or six, and I love being a part of all of them."
Although they are held up pridefully on resumes and applications, the average Weddington student seems to show little depth in their care for honor societies. Keeping them for the purpose of a stellar extracurricular list, academic recognition, and cords for graduation, they are merely a symbol of achievement. On paper, honor societies should be uniting the academically driven to move their hard work from the classroom to the community, while instead they are used as a step on the ladder to college acceptance. The importance of secondary education should not be dismissed in importance, however when it gets down to it, the purpose of these societies is not just to help the members get into a prestigious college, but to partake in community service as well. Simply put, students only seem to find honor societies important in their face value, and the honor societies located within Weddington are well aware.