EXCITEMENT IN EXTRAS- Warrior Baseball Secures Clutch Victory Over Cuthbertson With Walkoff From Wiseman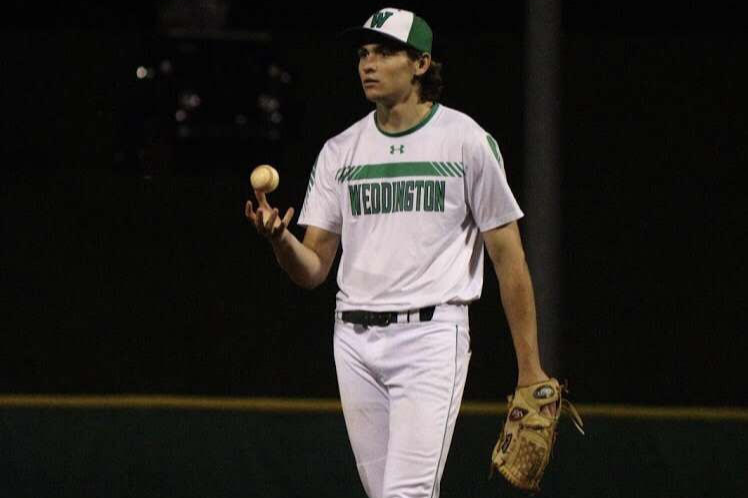 In the nearly 20 year history of the Weddington High School Baseball Program, the team has never won the Southern Carolina Conference Regular Season Title. While this fact may seem challenging to believe, considering Weddington has boasted numerous collegiate and professional level baseball players, and won its fair share of tough games over the years, it is indeed true that the team has never placed better then 2nd in the SCC in the program's 19-year history.
This year, however, there is an opportunity for the 2019 team to change this statistic. This week, Weddington Baseball will take on the Cuthbertson High School Cavaliers in their final conference series of the season, and there are more than just bragging rights on the line.
If Weddington wins at least 2 out of the 3 games played this week, they will clinch sole possession of the 2019 Southern Carolina Conference Title. If they lose at least 2 out of the 3 games, Cuthbertson will take the regular season title, and the Warriors will drop down to 3rd place in the division behind Marvin Ridge, who is almost guaranteed 2nd place, given they take the series against Charlotte Catholic this week- in which they have already clinched game 1 on Monday night with a 3-2 victory.
With that all being said, it is clear that the Weddington vs Cuthbertson series this week has quite a bit on the line, and Monday night, with an incredible game 1 victory, Weddington put themselves ahead in a series that still will be an extreme test for both teams in the final 2 games this Wednesday and Thursday night.
Monday was certainly an "extreme test" (like the next two games are slated to be) for Weddington and Cuthbertson. A game that came down to the wire, with a final score that was not decided until the 10th inning of play.
Starting off the evening on the mound for Cuthbertson was senior UNC Charlotte commit, Ethan Haislip. For Weddington, senior Bucknell commit Anthony Casciola was the starting pitcher. Casciola, who's fastball has skyrocketed in mph over the last 2 seasons, recently hitting as high as 90 mph, lasted for 5 innings and only allowed 1 earned run. Casciola boasts a .68 ERA on the season, an .850 WHIP, and has pitched very well this year, racking up numerous conference victories, including a massive win over Marvin Ridge 2 weeks ago. Coming in relief for Casciola was dual-threat third baseman and submarine style pitcher, senior Jackson Herring who allowed no runs, and shut down the Cuthbertson offense for 5 straight innings.
On the offensive side of the ball, against a very good Haislip, the Warriors struggled at the plate at times, but due to the offensive efforts of players like pitcher and outfielder, junior Dusty Mercer, who accounted for 2 doubles on the evening, Weddington just outreached Cuthbertson offensively to pull out the win.
However, despite the hot bat of Mercer, what is considered the most important offensive play of the night by most would be the game ending walk off single for Weddington's senior catcher, Bret Wiseman. After 10 long innings of play, and a defensive gridlock for both teams, Wiseman broke through on Cuthbertson's relief pitcher, Brandon Hudson, smoking a line drive down the left field line, and bringing in teammate Dusty Mercer, who was on second base, to score the winning run making the final score 3-2.
The walk off for Wiseman could not have come at a better time. Giving Weddington not only a huge win to start the series, but also plenty of excitement heading into the final 2 games of the Cuthbertson series, the walk off proved to be so much more than just a stat for the team and for Wiseman. It was a confidence booster, a motivator, and an amazing end to a game that will be forever remembered.
"Our team chemistry is electric right now," commented Monday nights starting pitcher Anthony Casciola. "We are more of a family than just a team. As far as the game Monday, I could not be more proud of my teammates. Bret called and caught a great game, and his walk off was one of the most exciting I've ever seen in a high school game. On top of all of that, my arm felt great. I couldn't have been happier."
With senior night at home on Thursday at 7pm, and a 4:30pm away match-up at Cuthbertson on Wednesday, there are still many more intense rounds of baseball to be played between the two teams. Weddington will just need one more win to earn the Conference Title, while Cuthbertson must take the next two to secure the Conference Title.
"The next two games could go either way. We are both good teams. We are just going to control what we can control." Said Casciola.
The Warriors are looking for a final push of series energy before next week's Spring Break Tournament in Kannapolis, NC and the Conference Tournament the following week. However, without looking ahead too far, the team is ready and focused for the next two games against Cuthbertson. It is up to them to determine their fate, and potentially go down in history as the first Weddington Baseball Team to ever win the Regular Season Conference Title. It's all in for the Big Dub, and there's no going back now. As they say on the field- #ShoveKid.