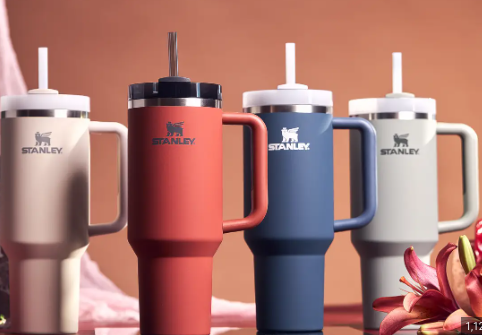 Over the past year, a certain type of cup has taken hold of the market: the Stanley Cup. It has become a staple in many American teens' lives, and it has been used to help people increase their water intake. But why has this particular product become so popular with young people? And what does this mean for the world? 
The Stanley Cup is a sustainable product that is made with 90% recycled materials. It is BPA-free and has the ability to increase users' water intake. Many believe that because of its size, it has made it so much easier to consume the needed water for a day. Though the Stanley company has been around for over 100 years, it has grown increasingly more popular within the last few years. Many believe that this is because of the fact that the cup fits into car cup holders, which is uncommon for the majority of Stanley's competitors. The cup is also designed to keep ice cold for up to 2 days and act as a thermal shield for your drink. Because of its popularity, Stanleys can be found in many places around America, including big names such as Target and Dicks Sporting Goods. 
However, with popularity comes competition. Recently, Hydroflask has launched its own version of the product and has been able to gain popularity with theirs. Yet, despite the challenges faced, Stanley still remains the most popular cup. Unlike some of its competitors, Stanley prides itself on being sustainable in every way. From manufacturing to recycling materials to packaging, Stanley has made it clear that they will continue their mission of sustainability. 
One of the main complaints about this product is that they are too expensive. While these cups are a little pricey, these products are the kind that never need to be replaced. Due to their sustainability practices, Stanley has created reusable, built-for-life products. So while some believe that paying 40-50 for a cup is ridiculous, many believe that this is an investment — not just a cup. 
As the Stanley brand continues to grow and evolve, the cup will continue to be a staple in day-to-day life. With the recent launch of new colors, Stanley only continued to make a huge splash in the economy. By practicing sustainability, Stanley is upping the ante and taking the plunge into a new era of sustainable products.