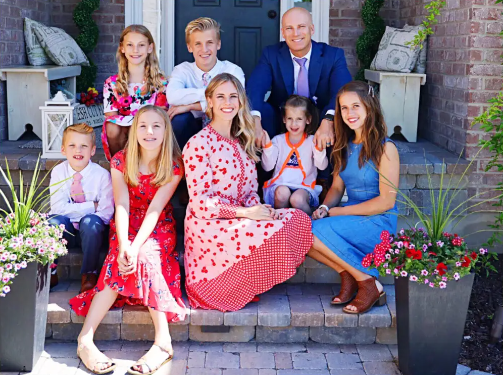 8 Passengers: The Ruby Franke story
The Arrest
On August 30th of this year, former YouTuber Ruby Franke and her business partner, Jodi Hildebrandt, were arrested for aggravated child abuse. Franke's son, who is only 12 years old, was found malnourished with his wrists bound together. He was found after he climbed out of a window at Hildebrandt's house and ran to a neighbor for help. The police were notified, and they soon found Franke's 10-year-old daughter in a similar condition. According to the officials, the children's condition was so bad that they had to be immediately taken to a hospital. Franke's four minor kids were taken into the custody of Utah's Division of Child and Family Services, and have been removed from the public's eye for the time being. 
Franke and Hildebrandt are each being charged with six counts of child abuse. Each count carries a maximum 15-year prison sentence, and a fine of up to $10,000 according to the county attorney. This means that if Franke and Hildebrandt are found guilty on all of the charges, they could both be in prison for 90 years. The county attorney said, "There are two juvenile victims in these cases, and each defendant is accused of causing or permitting serious physical injury to the victims in three different ways: (1) a combination of multiple physical injuries or torture, (2) starvation or malnutrition that jeopardizes life, and (3) causing severe emotional harm."
Who Is Ruby Franke + 8 passengers history
In January 2015, Franke launched the "8 Passengers" YouTube Channel, in which she vlogged her family's day-to-day life in Springville, Utah. She has six kids: Shari, Chad, Abby, Julie, Russell, and Eve. Franke told KSL News in 2016 that her channel was a way for her to "let my heart rate come down and to just enjoy being with the kids as they are right now." She went on to say, "I just want women who are still nursing babies, women who are still trying to get their families, women who aren't sleeping through the night to see what it looks like at the finish line, to see that there's a light at the end of the tunnel, and it's beautiful and it's powerful and it's worth it, it's worth all the effort that families put into their family." Even though Franke was a popular family vlogger, she was also known for her strict parenting choices, which led to suspicion of child abuse from her viewers…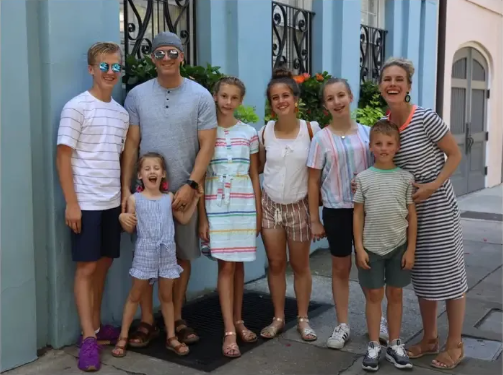 Controversies leading to arrest 
In August of 2019, when their oldest son Chad was 14, the Franke's sent him to the Anasazi Foundation Wilderness Therapy Program, which is an "outdoor behavioral health program" for kids 12-17 who struggle with "defiance, family, conflict, mental health, lack of motivation, and other self-defeating behaviors." The parents then stated in one of their vlogs that Chad would be spending roughly 10 weeks living in the Arizona Mountains, but throughout this video, they never stated why. Kevin Franke said that, "it's an accumulation of things over the years" and that Chad needed to "develop some very basic maturity and skills." In another, completely unrelated video, Chad said that he was forced by his parents to sleep on a beanbag for seven months. In June 2020, concerned viewers contacted CPS on "8 Passengers." CPS went to the Frankes' home, but nothing happened.
In 2021, Jodi Hildebrandt posted a video in which Franke said that she and her husband decided to not give her two youngest kids Christmas gifts after "long patterns of selfishness." She proceeded with, "We told them that this year they aren't going to be visited by Santa. We prepped them, we let them know that on Christmas morning, their four older siblings will be getting Christmas presents to open and that they'll have the gift of love from their dad and I." Because we want them to have a really visceral experience that hits them." She then said that keeping them home from school and having them clean the house as a punishment didn't work. Franke also threatened to remove her son's "privilege to eat dinner" for tickling his brother. In a separate video, she said, "My kids are literally starving. I hesitate to say this because it's going to sound like a mean barbarian but I told the kids 'I'm not going to let you eat breakfast until you get your chores done.'"
In another video, Franke shared that she got a message from her daughter Eve's kindergarten teacher, stating that Eve didn't have lunch that day, and asked Franke if she could bring lunch to the school. Franke said, "Eve is responsible for making her lunches in the morning and she actually told me that she did pack a lunch. So the natural income is that she's just going to need to be hungry and hopefully nobody gives her food and nobody steps in and gives her a lunch, because she's not going to learn the natural outcome."
 What has Franke's Family Said?
After the arrest, Franke's daughter, Shari, went on Instagram and made a few posts. The first post showed a picture of a police car and officer, and the caption said: "Finally." In another post, she wrote, "Me and my family are so glad that justice is being served.  We've been trying to tell the police and CPS for years about this, and so glad they finally decided to step up. Kids are safe, but there's a long road ahead." Shari also created a document and asked her followers to share "questionable" or "concerning" information about ConneXions or 8 Passengers. Franke's sisters Ellie Mecham, Julie Deru, and Bonnie Hoellin posted a statement saying that for the last 3 years, they've "kept quiet for the sake of the children," and they've tried everything they could to ensure the kids were safe. The post said: "For the last three years we've kept quiet on the subject of our sister Ruby Franke for the sake of her children. Behind the public scene we've done everything we could to try and try and make sure the kids were safe. We wouldn't feel right about moving forward with regular content without addressing the most recent events. Once we do, we'll not be commenting on it further."