Seussical the Musical, A 'Sublime' Night: POVs from the Audience and Behind the Curtain
An Audience Member's Review of Weddington's production of Seussical the Musical
Seussical the Musical, Weddington's 2022-2023 Spring Musical, is a musical comedy written by Lynn Ahrens and Stephen Flaherty and adapted from the stories of Dr. Seuss, mainly focusing on Horton Hears a Who!, Gertrude McFuzz, and Horton Hatches the Egg. I watched the Saturday (1:00 PM) performance of Seussical and thoroughly enjoyed it. From the singing and orchestra to the technical work and set design, it was all extremely well done. 
Every single member of the cast is undoubtedly very talented, and I would like to point out two especially notable ones: Jackson Jedelsky as Horton the Elephant and Kate Johnson as Mayzie LaBird. Jackson Jedelsky's diction and enunciation were perfect and clear, and his demeanor and body language completely encapsulated a loyal and just talking elephant. Kate Johnson's performance as Mayzie—a character of questionable likability characterized by her vanity, laziness, and irresponsibility—made her a fun and flamboyant feathered friend with an impressive set of pipes.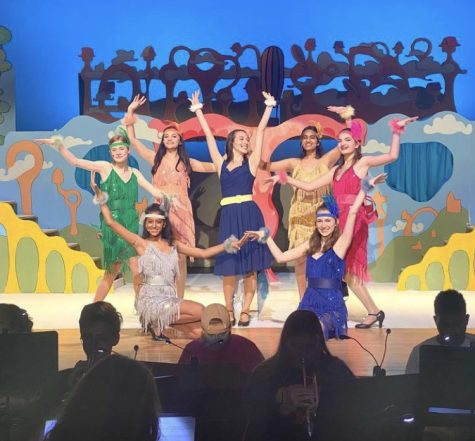 I would also like to take the time to individually praise the lighting,  orchestra, and visuals. At specific points in the musical, there were moments where there needed to be an instantaneous change in lighting or a spotlight of a different color on a character. The lighting and tech crew were able to perfectly time these moments exactly with a note of emphasis with the orchestra, making for moments where the orchestra reaches a crescendo, followed by silence, and all the lights immediately turn off at that exact time, other than the spotlight. The orchestra was able to portray the playful energy of Seuss while keeping at the perfect pace with the actors' vocals and complemented each other wonderfully. 
And last but not least, the visuals. From the show's promotional posters hung around the school to the Cat in the Hat cut-out photo op, the bright pastel colour palette and thick black shadow lines are completely Seuss-esque. The set incorporates Seuss's signature oddly shaped architecture and multicoloured plants with the aforementioned black outlines to make you think you've been transported to a page out of a Seuss book or one of the animated movies. 
Criticisms, if any, would be with volume and ensemble diction, though this may be due to personal perception, as my seat was very close to the orchestra "pit". In certain times when the entire cast is singing and the orchestra is playing loudly, it becomes slightly difficult to decipher what the cast is singing, though this is not a problem when individual actors are singing. This was not an issue during Act 2. 
Overall, this was a wonderful performance of Seuss stories adapted for the stage, and I think that every single cast and crew member involved in this production is unbelievably talented and hard-working.
-Emily Yue
A Behind-the-Scenes Look into Seussical
Working on Seussical was life-changing. For it being my first year working backstage at Weddington High School, I'm glad my first show was Seussical; it doesn't get more challenging than that. Seussical was a success in its own, after being nominated for 5 Blumey awards–the first time being nominated in Weddington history–the months of hard work paid off.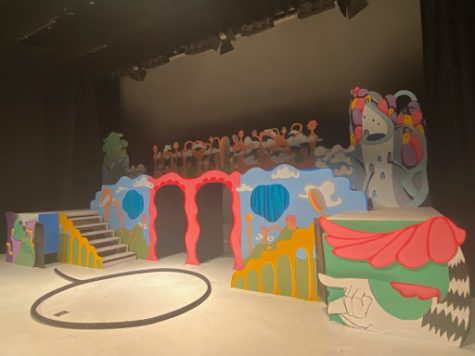 I was a part of the design team where we mainly focused on larger props and the set overall. I would stay after school most days with my team and we would design and figure out the complexity of Dr. Seuss' ideas. Props to Lila Boyd and Ellie Caniglia for being the masterminds behind the set! 
A lot of different aspects of the show went into creating Seussical! With the casting being spot on and the amazing crew, it was hard for Seussical to not be a success. Especially with Dr. Blamy's amazing directing and welcoming disposition, he really was the glue that held the performance together. 
Overall the hard work since December paid off, and now our cast is performing on the Blumenthal Stage in Charlotte next month. We couldn't have expected such an amazing outcome and we are so proud of the cast, crew, and pit for such a great show! 
-Alexis Heuer