The Cheer Nationals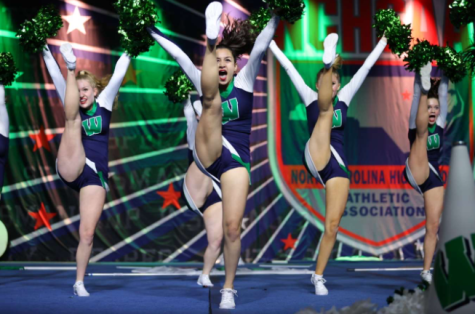 This weekend, the Weddington High school varsity cheerleaders attend UCA Nationals for the second time in Warrior history. Last year, the team put Weddington on the map by bringing home 7th in the nation, and this year, the girls anticipate that they will place even higher. "Last year's team did an amazing job making people buzz about Weddington. This year, we hope to show the cheer world who Weddington is and how far we have come," sophomore Sienna Leake stated. After many months of hard work and hundreds of hours of practice, the girls prepare to take on UCA nationals.
It's no surprise that the cheerleaders have made such a name for themselves, knowing how talented their coaches are. Head coach, Angie Mcduffie, alongside coaches Regina Thompson and Jennifer Ford, have all been in the cheer industry for over 20 years. The three coached at UCA camps and 2 cheered at NC state, and have been close friends ever since. Using their knowledge of the sport, dedication, and wisdom, the coaches have led the girls to 3 state championships in just the past two years. The three hope to inspire and promote their love of cheer to the athletes. Now, the coaches are ready to take on the country at nationals. "I think that we're ready for nationals, but nationals isn't ready for us," McDuffie stated. 
Another factor in their success this season has been working with choreographer Mark Evans. Evans has worked with many A-list celebrities and on multiple movie sets and has now brought his creativity to Weddington cheer. Due to his choreography, the cheerleaders have really been able to step up their game not only physically but mentally. "Mark made us realize that we have what it takes to win nationals. His confidence and choreography have taken us to the next level," junior Isabella Gomez stated. 
This year, the team is competing in the large varsity game day division once more. This division has over thirty other teams competing, but the Warriors believe that they have what it takes to be national champions. The team competes Friday at 2:15 PM in the Visa center. Students and teachers can stream at LINK TO WATCH.