Sesame Becomes the 9th Major Food Allergen in the US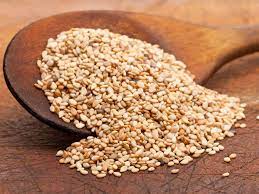 On January 1, 2023, sesame officially became the ninth major food allergen in the US, under the Food Allergen Safety, Treatment, Education, and Research Act, also known as the FASTER Act.  This act was signed into law in April 2021.  The other 8 major US food allergens include eggs, milk, fish, crustacean shellfish, tree nuts, peanuts, wheat and soybeans.
   Sesame itself is a plant, and sesame oil and sesame seeds are what we eat.  Sesame is very common in Asian and Mediterranean food, including granola, tortilla chips, crackers, and bagels.  To help protect people with the top 9 food allergens, the FDA requires companies to list the allergens or ingredients on packaged foods and drinks.  However, it costs less money to not print sesame on packages at all, which is why companies are adding sesame to their products rather than following the new law. 
 So what does this mean for people allergic to sesame?  As someone who is allergic to a few food groups, including sesame, I am concerned about what comes next.  According to the Center for Science in the Public Interest, this violates other federal safety food rules.  This is exclusive to people that are allergic to sesame, and now there is less food that those people are able to eat.   The companies participating in this non-inclusion include Chick- Fil- A, Culver's, Dave's Killer Bread, Olive Garden, and Pan- O- Gold.  Kellogg's did the same exact thing with peanut flour in 2016.  They were sued and unfortunately, Kellogg's won.  As a result of this new rule, consumers are posting their frustration on social media.  A mom named Jennifer Grant posted on Facebook that her college daughter, who is allergic to sesame, said she could no longer eat foods she once enjoyed because of these new rules.
 According to a petition filed with the FDA, the CSPI is asking them   Sarah Sorscher, the CSPI Director of Regulatory Affairs, said, "This perverse practice sets a dangerous example.  If companies can do this with sesame, there is nothing to stop them from adding other peanuts, milk, or other major allergens instead of cleaning the lines for allergens in between products."  For over 50 years, the CSPI has been an advocate for food allergy safety.  They were the first group to petition the FDA to require allergen labels for sesame back in 2014.  The group has also supported laws requiring food allergens to be put on food packages.  Currently, it is pushing for allergen labeling on alcoholic beverages.  
   The FDA gives advice to companies and consumers on the best ways to assess and manage allergen hazards, according to its website.  The agency also does inspections and sampling of food to check that the major food allergens are labeled on products correctly and to determine whether food facilities are preventing allergen cross-contact, the inadvertent introduction of a major food allergen into a product, and labeling the products correctly.
   In the FDA website's exact words, "When problems are found, the FDA works with firms to recall products and provide public notification to immediately alert consumers.  In addition, the FDA has the authority to seize and remove violative products from the marketplace or refuse entry of imported products.
Sources