A New Era: Weddington Basketball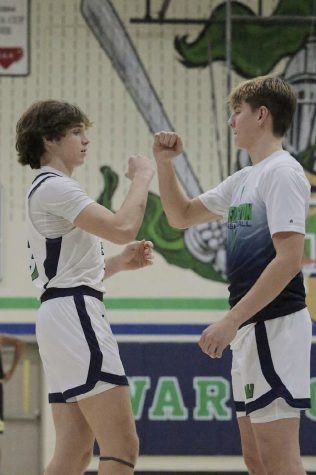 After winning back-to-back state championships and 49 straight wins, the Warriors basketball team introduces a new head coach. Their former coach, Gary Ellington decided to take on a new challenge– joining the Queen's university coaching staff. After the departure of Ellington, former assistant coach, Richard Carsner, took the job as head coach. Before Carsner's days at Weddington, he was the head coach at Ashbrook High School. When he arrived at Weddington in 2020, he instantly became affiliated with the basketball program. He soon learned of the warrior's winning culture, and they went undefeated for the next 2 seasons. Now, Carsner takes on a new challenge with lots of new personnel.
This season, Weddington lost 4 of its starters, including Chase Lowe, Kyle Frazier, AJ Cook, and Evan Morton (who transferred to United Faith). After the exit of these players, the team had to work harder than ever to fill their shoes. The Warriors have many fresh faces with a starting lineup of seniors Nolan Dunphy, Pete Bombardier, and Berni Tah alongside juniors Grant Hamilton and Jack Elyson. This line-up brings a combination of speed, toughness, and shooting ability which makes them a nightmare matchup for opposing teams.
Due to the warrior's past success, expectations are high heading into this season. They had a challenging first game against Rocky River at home, dropping their first game since March, 2020. But this didn't discourage them; for the next game, they were able to defend their home court in a close battle against the Ardrey Kell Knights, in which they had one of their best shooting games of the season. They were then able to pick up another win at home against the Providence Panthers which saw them lead for most of the game and hold off a late Panthers run to improve their record to 2-1.
Weddington was able to extend their winning streak further with a win on the road against Forest Hills. They had a slow start in the opening minutes but were able to piece together a solid away victory. The team then ran into a tough opponent falling to the Mooresville Blue-devils in a hard-fought double-overtime game. They were able to extend the game late with a buzzer-beating jumper from junior Jack Ellyson, but they still ended up falling short.
The Friday following the Mooresville game was a historic night for Weddington as two school records were broken. Junior Grant Hamilton set the record for most points in a game with 45. Ryan Schwieger previously held this record. He was also able to break the made three-point record with 12. This was previously held by AJ Cook, who had 8. He gave Carolina International all they could handle in a 30-point blowout win, leading to a 92-62 victory at home. They extended their winning streak to two games with a win over the Monroe Red Hawks on the road.
However, after losing a challenging game at Providence, their two-game-win streak was put to bed. After their first matchup, Providence was able to get a crucial victory at home against the Warriors. Weddington then bounced back with a huge victory at the Anthony Morrow shootout with a victory against Charlotte Country Day. Senior Nolan Dunphy was able to drain the go-ahead jumper with 2.5 seconds left, which led them to a much-needed victory.
Through all this excitement, many are wondering how this season will play out. They are working hard every day in practice and the weight room to add another banner and write their names in Warrior history. They are back at it tomorrow in the Anthony Morrow shootout with a game against Gaston Christian. The game will be played at 1:30 pm at Charlotte Latin.