The End of an Era: Carl Azuz's Legacy on CNN 10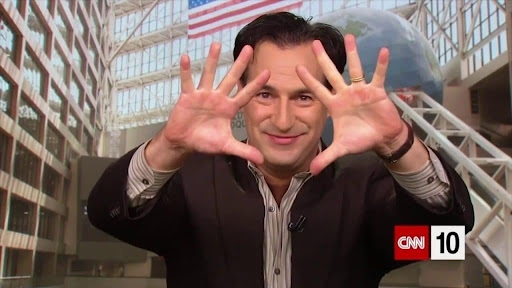 The name Carl Azuz is no stranger to the majority of middle and high school students. Azuz has been a familiar face on classroom screens for the past 14 years, beginning as a news anchor for CNN Student News in 2007. From there, he cultivated and carried on the joyful enthusiasm of CNN 10 since its first episode on January 5th, 2017. Carl Azuz has redefined student news, becoming a classroom staple in schools across the country. 
CNN 10 recently kickstarted its Fall 2022 season on September 11th. Students and teachers, rather than giving their focus to the current events, were distracted by an unfamiliar face. The episode began with a startling greeting from a new host, Coy Wire, and continued with a lingering dullness as it lacked the energetic spirit that Azuz never failed to bring. 
After a few consecutive days of disappointment due to Azuz's absence, students began to express their outrage and confusion on TikTok, Twitter, and Reddit. After an outburst of disappointment and surfacing conspiracies of the iconic host's death, Azuz took to TikTok on September 19th to send a message to his supporters. In his 1.5-minute-long video, Azuz announced his official departure from CNN 10. He expressed his gratitude to students for their outpour of support as well as reflected upon the endless opportunities that he has gained from being an anchor, signing off with one final pun. 
While students are now bidding farewell to Friday puns, they are beginning to welcome the next face of student news: Coy Wire. Wire is a former professional football player for the Buffalo Bills (2002-2007) and Atlanta Falcons (2008-2010). Since 2015, he has worked for CNN as a sports anchor and correspondent. Although he is no stranger to news anchoring, students and teachers have been reluctant to accept Wire as Azuz's replacement. Many students online have referred to him as "Mr. Clean ripoff," and teachers such as English teacher Heather Ellis was "saddened that the long-time host, Carl Azuz was no longer hosting the program." Students at Weddington High School have also shared their thoughts on Azuz's departure. An anonymous sophomore shared, "It was weird watching CNN 10 without Carl Azuz. It felt like something was missing." An anonymous senior at Weddington also admitted, "Carl Azuz made history classes exciting. I remember walking into class in eighth grade every day, and I would hear his voice. I watched him in school every day and never got bored of it."
Carl Azuz will forever be remembered for his playful humor and liveliness that impacted students across the country for more than a decade. Although a sudden change, Coy Wire's succession to Carl Azuz signals a new era for CNN 10.