What is Dia De Los Muertos?
Dia De Los Muertos is a two-day, Latin-American celebration in which loved ones are remembered in a festive manner. The first day of the celebration, Dia De Los Muertos, also known as the Day of the Dead, begins November 1st. The first day of the celebration is reserved for the young, and the second is for the adults/elders who have passed. The holiday is about remembering and honoring the deceased in a loving and reverent way. Actually, it is the total opposite of sad, since the day is full of festivals and parties so the people can remember their relatives and enjoy the memories. Its roots can be traced back to pre-colonial Mexico when it was thought that spirits could return to their loved ones once a year to commemorate their lives. Persons from all around the world now honor this holiday, with over 3 million celebrating. At Weddington, students in Spanish class bring the holiday to the school by filling the hallways with festive decorations for everyone to enjoy.
 "During Dia De Los Muertos,  it is believed that spirits of the dead come back to the land of the living and are celebrated by their families. For a lot of families, it is a day of closure and remembrance of their dearly departed," senior Melissa Carbajal said. Coming from Mexican descent, Melissa's family is used to celebrating this holiday. It is very important to her and her family, and even though it is uncommon to celebrate in this particular area, Melissa likes to take every opportunity she can to commemorate it and educate her friends. "It is important to learn about other cultures so that we can have a more open mind and understand the perspectives of others. There are so many different cultures and traditions around the world, so being able to see them with an open mind really makes the world a better place."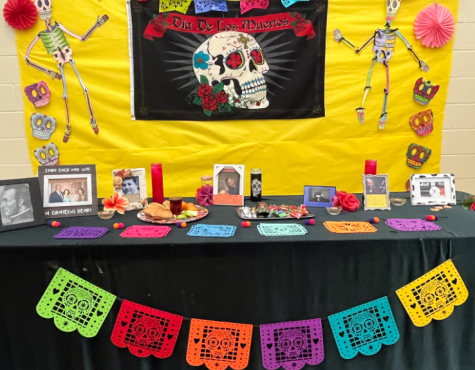 Students decorated a table in the hallway with pictures, offerings, skulls, and candles to represent the holiday. These are known as Ofrendas, and they are very popular when celebrating the Day of the Dead. Items such as candles and pictures are used to help decorate these Ofrendas, and flowers (such as marigolds) lead the path home for these spirits. The table not only shows off the beauty of the holiday, but it also sparks interest in the curious minds of the Weddington students. "I saw the table on the way to class, and it made me want to learn more about the holiday. I had heard of The Day of the Dead, but up until that point, I didn't know much about it. In my next class, I researched it and I thought it was a really cool Holiday," junior Tyler Gautreaux stated.  
The main goal of the Ofrenda was to inform students about the Day of the Dead. "Involving students with cultures other than their own creates more accepting students," junior Eva Vila added. "We honestly just hope to teach other students more about this holiday, and I am glad we were able to!"