California Coastal Fire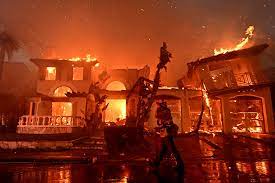 On May 11, 2022, the beginnings of a coastal brush fire was reported in Orange County, California around 2:45 P.M. Spanning over 200 acres of land, the fire invaded the city of Laguna Niguel, home to one of California's richest neighborhoods. The Orange County Sheriff's Department has confirmed that 900 homes were under evacuation orders, 20 homes were destroyed, and 11 others were damaged. Firefighters assessed the impacted area overnight, monitoring for flying embers that flew into the attics of multimillion-dollar homes, increasing the difficulty of containing the fire. According to the Orange County Fire Authority, two firefighters were injured while taming the spread of the fire, but there have been no reports of resident injuries. As of May 17th, the OCFA confirmed that the fire was 100% contained. The official cause of the fire still remains unannounced, although it is suspected to be related to nearby electrical circuit activity. 
Wildfires are common in California, however, the severity and timing of the Laguna Niguel fire came as a surprise. The expected time for fires is around June to August, but California's ongoing severe drought has created prime fire conditions similar to the typical mid-July weather conditions. The US Drought Monitor reported that the western US is experiencing one of the most extreme droughts on record. Winds reaching up to 30 miles per hour and the incredibly dry vegetation have been the fire's primary fuel source, leading to drastic environmental damage. 
In the days following the fire, temperatures in California were expected to rise 10 to 15 degrees above normal, exacerbating the dry state of the region. The increase in temperature is also leading to about an 8% increase from last year in agricultural water demand. With the presence of drought, one fire can cause a domino effect. A fire such as the recent brush fire intensifies dry conditions, producing an environment perfect for the generation of another fire, and so on. The United States Environmental Protection Agency states that the increase in air pollution from wildfires is related to "reduced lung function, bronchitis, exacerbation of asthma and heart failure, and premature death" with children, pregnant women, and the elderly being especially vulnerable to smoke exposure. The World Health Organization outlines the impact that the combination of a dry environment and high winds can have on the environment, stating, "Wildfires can disrupt transportation, communications, power and gas services, and water supply. They also lead to a deterioration of the air quality, and loss of property, crops, resources, animals, and people."