College Acceptance Rates 2022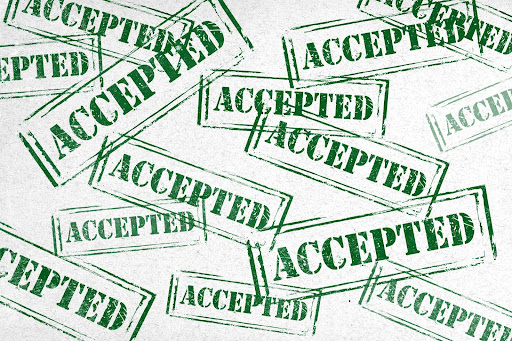 If you thought 2021 was a rough year for senior applicants, 2022 brought another taxing year for college acceptance rates and admissions. This season's increase in applicants set yet another record-breaking year for admissions. The organization that runs the Common App reported that by February the application volume increased almost 10% more than last year. While this year's season has almost come to an end, we are left with what seems to be one of the lowest average acceptance rates in college history. 
Last year, because of test-optional admissions, there was a surge in applications. After Covid-19, there were no guaranteed acceptances made by colleges. This produced fear in the applying class, which led to students applying for more colleges than normal. They had their backups, target, and reach schools. Even this year some colleges are allowing the test-optional admissions, leading to more applications. CBS says that "as of November 16, 2021, the number of college applicants had increased 13%, and total applications submitted have increased 22%." 
From our current standpoint, the surge in applicants may seem like a good thing, but it's the number one cause of low acceptance rates. Since there are more applicants, schools have become more selective during the admissions process. Nowadays, it doesn't take just a good GPA and SAT score, but more unique aspects to your transcript and application. In the end, does your overall SAT/ACT and GPA matter? Well, yes, being at the top of your class with a good GPA and test score puts you ahead. However, you need outstanding extracurriculars and a one-of-a-kind essay to stand a chance in the decisions pool. Rankings of colleges contribute to the low admissions rate as well. If the schools are ranked high, that attracts more "elite" applicants, which makes the admissions process even more selective. 
So how do you combat the low acceptance rates? Preparing early and deciding your major always helps. Taking the right classes, choosing extracurriculars that apply to your major, and spending time on your college applications all can contribute to the process. But don't worry, the majority of students start preparing for college in 10-11th grade, with 11th grade being the most focused upon by college admissions. Some helpful websites to help you prepare are College Vine, College Advisor, and Big Future by College Board. If you are more interested in specific schools, follow this link to compare 2022 acceptance rates. Good luck to the future applying classes!