A "Red" Hot Topic: Taylor's Version
A hot topic in the past few weeks has been singer-songwriter Taylor Swift's release of her re-recorded album Red, aptly titled Red (Taylor's Version). The re-recorded album features a 30-song tracklist, as compared to the original's sixteen songs and the deluxe edition's twenty-two. Red (Taylor's Version) is the second album that Swift has released in her quest to gain the legal ownership of the master recordings of her first six studio albums, preceded by Fearless (Taylor's Version).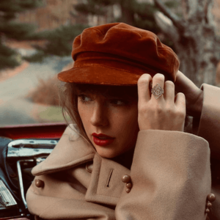 Red (Taylor's Version) has shattered records across the board: breaking her own records of most simultaneous US Hot 100 entries by a female artist (previously held by Swift's Lover), most streamed album in a day by a female artist on Spotify (previously held by Swift's folklore), most streamed female in a single day on Spotify, largest vinyl sales week for an album (previously held by Swift's evermore), the second female artist to hold at least 10 number ones on the Billboard chart (Barbra Streisand being the first), fastest accumulation of four No. 1 albums on Billboard 200 by a solo artist (previously held by Elton John) and the longest song to debut at number one ("All Too Well (Taylor's Version)") on the Billboard Hot 100 (previously held by Don McLean's "American Pie"). 
Red was first released in 2012 as Swift's fourth album, and marks her first venture into real pop and the straying away of the country-Barbie image she had previously been associated with. The album, described by Swift herself as her "only true breakup album", follows the messy aftermath of heartbreak in a messy way: from country guitar twang to electro-pop to five-minute-long power ballads. Critics (including Rolling Stone, Billboard, and Pitchfork)  praised the album, referring to the newfound maturity in Swift's songwriting and the new sounds that she surrounded herself in. With Red, Swift catapulted to  mainstream recognition, with her first ever number one hit ("We Are Never Ever Getting Back Together") on the Billboard Charts.
Red (Taylor's Version) adds more to the story; the songs Swift "wanted to include, but couldn't" are new and improved (some lyrics from "Vault Songs" having been previously shared in the Lover diaries), the songs sold to other artists have been recorded with her own spin, and the original tracks updated too. There are differences in production (most notably, "Girl at Home") and vocal aspects. One vault song that sticks out includes "Nothing New (feat. Phoebe Bridgers)", a folksy guitar tune that laments feeling "relevant" in both a romantic relationship and in the music industry. However, what was immediately eye-catching to fans of Swift (dubbed "Swifties") when the tracklist for Red (Taylor's Version) was released was the very last song.
All Too Well-Known:
For years, "All Too Well"  seemed to form a sort of bond between Swift and the fans. When it was released, the song was heralded by critics for its masterful storytelling (Rolling Stones named it one of the best songs of all time), but also instantly claimed as a fan-favourite, spawning multiple heartfelt performances and inside-jokes about missing scarves  and lost records in drawers. While accepting interviews as promo for her new album in 2012, Swift revealed that "All Too Well" had been cut down from 24 minutes, to 10 minutes, to the released 5:28 minutes. Subsequently, fans latched on to this "lost version" of the song, with constant inquiries over the years to the artist on the whereabouts of this "ten-minute long All Too Well."
Before Red (Taylor's Version), Swift had responded a few times to the questioning: "ITS SOMEWHERE IN A DRAWER I DON'T KNOW I DON'T KNOW" was one of the replies. A well-documented wave of chaos broke out in the "Swiftie fandom" once "All Too Well (10 Minute Version) (Taylor's Version) (From The Vault)" had been confirmed. Another instance of the longer version of ATW being mentioned was during the promotion of her sixth studio album Lover, where Swift shared alternate and original lyrics to released and unreleased songs in diaries that could be purchased alongside the physical album. Original lyrics to "All Too Well" were included: "There we are again when you blew the candle out/ Took this blazing love, steered it right into the ground/ Running scared, I was there". Despite the running joke of "ten minute All Too Well" and mentions by the artist herself, the confirmation of a ten minute "All Too Well" still shocked fans.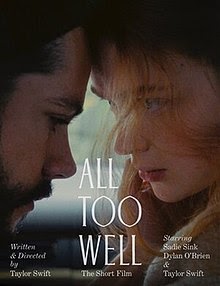 To promote Red (Taylor's Version) and as a love letter to the fans, Swift wrote and directed a short film featuring the ten minute "All Too Well," starring Dylan O'Brien and Sadie Sink. With Gen-Z familiar names and buzz surrounding the rumoured subject of the song fueling interest, the short film garnered more than 13 million views less than 24 hours after it premiered (at time of writing, it has 47 mil). After the premiere, various social media platforms, most notably TikTok and Twitter, speculated the "easter eggs" hidden throughout the video, ranging from camera angle & lighting to props and storyline, were connected to Swift's previous personal relationships. 
Due to the publicity surrounding Swift's relationships, fans connected "All Too Well" to Hollywood actor Jake Gyllenhaal; the "secret message" from the album booklet of "All Too Well" was "MAPLE LATTE," which correlated with the infamous paparazzi photos of Swift and Gyllenhaal holding (later confirmed to be) maple lattes. 
With the added verses of the ten minute version, Swift paints a fuller picture of the relationship described in "All Too Well": he was older and she wasn't old enough, he acted as though he loved her but constantly put her down, he charmed her dad with jokes but never laughed at hers, she watched the door all night but he never turned up, and he says he doesn't, but she remembers it all too well. 
Begin Again: Re-recording
But this entire equation begs the question: Why is Taylor Swift re-recording her old albums anyways? In an oversimplification: to regain the legal ownership of her old catalogue. 
In 2005, a 15-year-old Swift signed a 13 year record deal with Big Machine Records. In the span of 13 years, she had recorded six studio albums, all owned by Big Machine Records. When her contract ended in 2018, Swift attempted to negotiate the right to "buy [her] masters back", but was told she had to continue her contract with Big Machine for an additional ten years, essentially "earning" the albums back one by one, if she released a new one every two years. Swift refused and the masters (original official recording of a musical/audio performance) were sold to industry executive Scooter Braun—manager to artists such as Justin Bieber, Ariana Grande, and Demi Lovato. Swift felt betrayed by her former record label for choosing to sell the masters to Braun (who is also the former manager of Kanye West), someone who she felt had facilitated and encouraged the online harassment she experienced in 2016 because of two of his clients' involvement in the "Kimye scandal".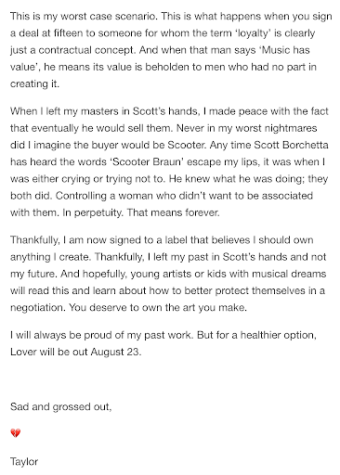 With no other choice, Swift announced her decision to "re-record" her first six albums in August of 2019. Subsequent developments included an attempted "blocking" of Swift performing and using old songs for her new content & performances, and Braun selling the masters to Shamrock Holdings. Swift was offered a chance to bid at her masters during this time, but at the terms of signing a NDA and not being able to speak about Scooter Braun ("unless it was positive"). She maintained that this offer was not serious in nature, as her team wasn't given a price, and she refused. 
Swift's choice to re-record and release as opposed to continuing to fight a silent fight proved both symbolic and successful. Musical peers along the likes of Cher, Halsey, and Iggy Azalea supported her, with Joe Jonas voicing his wishes to "re-record the Jonas Brothers' back catalog" and new teenage pop star Olivia Rodrigo saying that Swift's battle for her masters inspired her to own her own. Both Fearless (Taylor's Version) and Red (Taylor's Version) were commercially and critically acclaimed. 
We Are Never Ever Getting Back Together: Threats to Exes
As is with more attention, comes more naysayers. Swift has kept a predominantly positive reputation since any major conflicts with "big names" (namely, the masters controversy with Scooter Braun), with her previous two studio albums (sister albums folklore & evermore) being primarily based on fictional ideas inside her head, but the re-recordings has also brought the older arguments back. 
"Why is she bringing this up again? It's been ten years!" "When all her songs are about how the guy is the issue, maybe she's the problem." "There she goes, playing the victim, again." 
Most of the arguments are easily refuted: she's regaining the rights to her music, she has a varied collection of perspectives in her songs beside "breakup songs", and in a good amount of situations, she was most definitely not the beneficiary (notably, "Kimye Snake incident" and 2009 VMAs). 
However, some select fans (and a portion of the internet) have decided to go about things the wrong way. With the release of Red (Taylor's Version) came an influx of mockery and thinly veiled hate towards the alleged subject of the majority of the album, Jake Gyllenhaal. Fans stormed his and his sister Maggie Gyllenhaal's social media accounts with snarky and overbearing comments full of references from the newly released "All Too Well (10 Minute Version)", speculating about the personal aspect of their lives, including his current relationship. 
John Mayer, the alleged subject of "Dear John" from Swift's third album Speak Now, responded to some fans' Instagram direct messages. The "fan" sent aggressive messages that "[they] hoped [he] would choke on something", followed by various obscenities. Mayer responded that he had been receiving similar messages and replied: "I'm not upset, I feel compelled to ask. Do you really hope that I die?". The fan then apologized and excused the behavior as "being a dare". 
Despite the controversies surrounding various public figures, it is not okay to send anyone death threats or other types of offensive messages. In terms of Swift's alleged exes, we, as the consumer of her music, do not know the full story of what might have happened between her and the subjects of the songs, and therefore, shouldn't take them so seriously. Good-natured fun within a "fandom" can be enjoyable, but it can also become out of hand and uncontrollable.