Honoring Our Veterans: Veteran's Day 2021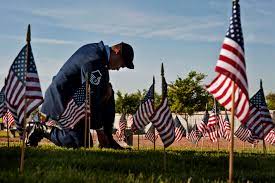 Veterans Day is a national holiday for those who have served in the United States Armed Forces, including the Army, Navy, Coast Guard, Marines, Air force and Space Force. These people are known as veterans. It is celebrated on November 11th. Since Veterans Day is a federal holiday in the United States, all non- essential businesses and schools close for the day.
There are many parades and services in different places throughout the country that honor veterans. In Washington DC, the National Ceremony is held each year at Arlington National Cemetery, where the president gives a speech and veterans are honored. Arlington National Cemetery is the largest cemetery in the United States dedicated to veterans. Many cities have a parade, and at events, veterans will be asked to stand and people will honor them with applause. Many people will also fly a US flag to show their support for veterans and the armed services. Finally, at 11AM, a moment of silence is observed across the country to remember all veterans.
Veterans Day is an important day for many in the US. As of 2010, there are around 21.8 million veterans living in the US. There are around 9 million veterans over the age of 65. Because there are so many members of the armed forces, this day is not only in remembrance of them, but in honor of them and their families. Almost everyone knows a veteran, or has been affected by the death of one.
This week, in observance of Veteran's Day, I decided to interview and give honor to some of Weddington High School's veterans.
Honoring Veteran Teachers
I spoke to Mr. Welch, a biology teacher that also coaches JV Girls Basketball. He served in the US Army from July 1994- October 2005, and was stationed in Korea, Fort Campbell (KT), Egypt, Germany, Fort Carson (CO), and Iraq.
Our beloved Lieutenant Colonel Morgan, who can be seen smiling at students, training ROTC members, and cheering on teams at sports games, is (unsurprisingly) also a veteran we'd like to honor for Veteran's Day. As previously mentioned, he teaches ROTC at Weddington High School. Lt. Col. Morgan served in the Marine Corps for 22 years and was stationed at various bases across the country and overseas.
Honoring Veteran Warrior Families
After interviewing Alexa Clark, a sophomore at Weddington High School, she shared some details about her father, veteran David Clark. Mr. Clark served in the US Army for 11 years. He was stationed in South Korea and Iran.
I also spoke to Josalin Sutton, whose parent, David Alan Carr, has served in the US army since 2008. He has been stationed in Iraq.
Craig Wirth, father of Bella Wirth, a senior at Weddington High School, served in the Marines from 1996 to 2018, moving bases frequently.