Inauguration Fashion: Who Made a Splash?
On January 22, 2021, Joseph R. Biden was inaugurated, officially becoming the 46th President of the United States. Kamala Harris was officially appointed the Vice President, becoming the first woman to ever hold the position. It was undoubtedly a significant moment in America's history; however, fashion seemed to dominate the discussions about the inauguration. Let's take a look at the most talked about clothing items at this event.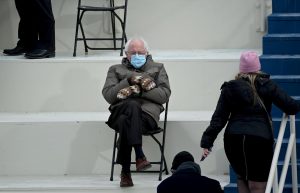 Bernie Sanders arrived decked out in his now-iconic mittens and winter coat- but where did he get those mittens from? The answer: Jen Ellis from Vermont.
Jen Ellis is a second-grade teacher who adores Bernie and admires his free education views. This mitten story can be taken all the way back to 2016; when Bernie lost the Democratic bid for the presidency, Jen Ellis reports she felt a spark of inspiration in her disappointment. She made him a pair of mittens, which she said takes an hour or so, and sent it to the Senator, thinking nothing of it. 
However, in 2019, Bernie wore them on the campaign trail. Later, he was reported to have given University of Pittsburgh Medical Center dietary worker Alexandria Cutler his gloves, and the story went viral. After that, Jen Ellis sewed ten more pairs for his campaign and sent them off. 
Now, the mittens are making a reappearance. Jen Ellis reports feeling so honored that he wore her gloves that day; plenty of others opted to wear designer clothing, but Bernie Sanders wore a second-grade teacher's mittens.
But that isn't all that has happened with these gloves. 
While neither the most expensive nor the most flashy fit, Sanders's outfit became the most iconic, largely due to his expression sitting in his chair. After the photo of Bernie sitting at the inauguration went viral, generating a slew of memes, Bernie made campaign merchandise inspired by the image. Over the course of weeks, Bernie has raised over 1.8 Million dollars for Vermont charities with the picture.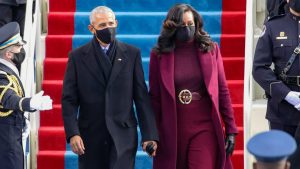 Next is Michelle Obama. In one piece of footage from a news outlet covering the moment she and former president Barack Obama entered the public eye in their inauguration outfits, she was addressed three times before the reporter mentioned her husband. Many concluded that this was for good reason, given her stunning getup. Michelle Obama wore a burgundy/plum jumpsuit and coat designed by Sergio Hudson, complete with an accessory belt. She made thousands of people gasp as she entered the Capital.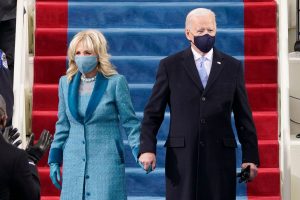 Next is Mrs. Jill Biden's outfit for the inauguration. Her ice blue outfit was designed by Alexandra O'Neil. The brand Markarian explained that the outfit was made in various shades of blue velvet, blue tweed, silk, and chiffon in order to "signify trust, confidence, and stability." First Lady Biden wanted to give a feeling of tranquility and bliss in her outfit.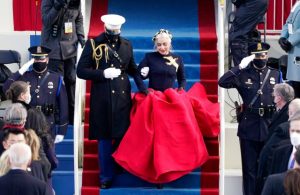 Plenty of non-political figures garnered attention for their outfits. National youth poet laureate Amanda Gorman spoke with eloquence and passion while wearing a yellow Prada coat and a birdcage ring, a reference to Maya Angelou. Lady Gaga's elaborate gown, complete with a billowing red skirt and large bird brooch, drew the eyes of everyone spectating the event. The looks served and the viral content generated were just the cherry on top of a day representing one of the most important traditions in American history.