Bickering Over Australian Bushfires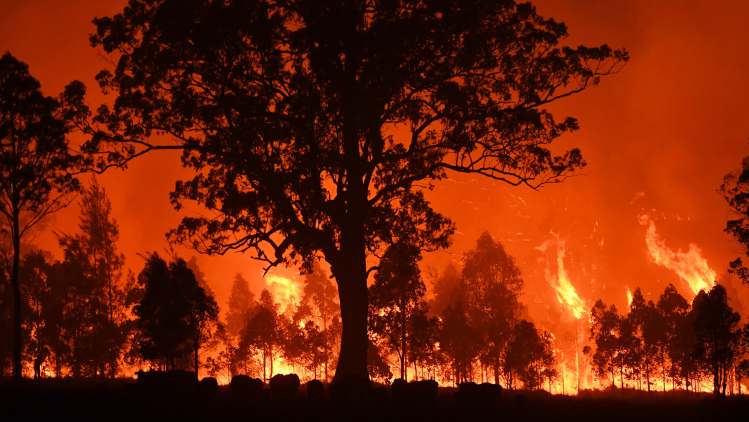 Winter looms in the distance as Americans begin to begrudgingly reach for a coat before leaving their homes and consider getting a head start on holiday shopping season. Although most associate the months of November and December with cooler weather, the forecast is completely different for those on the other side of the globe. What is typically referred to as "bushfire season" in Australia begins in early September and peaks in January or February. The severity of the fires fluctuates on a yearly basis depending on the amount of rainfall or the state of vegetation. In particular, the Southeastern half of the nation is the most prone to fires because it is the driest and generally experiences the warmest weather. The other half of Australia is much less likely to be set ablaze, as most fires that occur north of the city of Brisbane are caused by human error or the occasional lightning strike. 
This year's dry season has succeeded in bringing the heat but has failed to bring any much needed rain. As a result, the country is experiencing what has been dubbed one of the worst bushfire seasons to date, with flames up to sixty feet high being spotted on the east coast. More than five hundred homes have been destroyed, six people have been killed, and at least one thousand firefighters have been attempting to put out fires in the suburbs of Sydney since Saturday, November 16th. This disaster hasn't just affected humans, either. Koalas are currently categorized as an endangered species, and, because of the fires, many of them have had to be rescued from trees and treated for burns or dehydration. Approximately two million acres of land have been destroyed by the fires, which have produced smoke clouds so massive that they cause the sky to appear orange. 
Bushfire season is annual, and to a certain degree, even expected. Many citizens routinely prepare their properties every year while also polishing up their designated emergency plans. The question that many of Australia's politicians are failing to agree on an answer to is "If these fires happen every year, why are the bushfires so much more extreme this year than in years past?" Deputy Prime Minister Michael McCormack commented that he felt that those affected by the fires would be better served by empathy rather than gripes about climate change. "They don't need the ravings of some pure, enlightened, and woke capital city greenies at this time, when they're trying to save their homes." McCormack's ideas are impactful because as Deputy Prime Minister, he is considered to be second in authority in the Australian government. Those who disagree with McCormack point fingers at the 1.3% of global carbon dioxide emissions and 3.6% of global fossil fuel emissions that Australia is responsible for. The calculated carbon footprint of Australia  surpassess both the US and China when looked at on a per capita basis. McCormack disagrees with the idea of connecting the country's increasing emissions to its more extreme weather conditions. Scott Morrison, the Prime Minister, feels similarly. "Climate change is a global phenomenon and we're doing our bit as part of the response…I think that to suggest that at just 1.3% of global emissions, that Australia doing something more or less would change the fire outcome this season – that doesn't stand up to credible scientific evidence." As a country that seems to have come to a general consensus on every other major political quandary (universal healthcare, college, and minimum wage), the refusal to agree whether or not the more extreme bushfires have any affiliation with climate change is almost ironic.
Australia's predicament is strikingly similar to California's heightened wildfire seasons, particularly in 2018 and 2017. With a reputation for being a state that leans very far left, California governor Gavin Newsome has publicly criticized many policies of the Trump administration. One of the few points of agreement between Newsome and the president has been over the federal government's financial support of crews and firefighting planes. The resilience of the flames seems to have lessened in 2019, despite the fact that the average temperature in California at this time of year is currently three degrees higher than it was last year. Australia has seen higher temperatures this year due to a nationwide heatwave on top of approximately sixty fires burning at a time as of Wednesday, November 20th. Many have marveled over the massive size of this year's fires, especially since  the height of the dry season has not even begun – typically, the peak is not until mid-to-late summer. Those with respiratory issues have been advised to avoid going outside whenever possible, and Australians brace themselves for a few more months filled with heat and flame.