Honoring Black History Month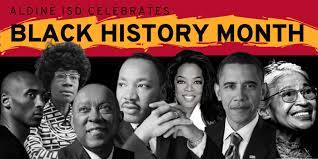 Black History Month is when all races get to recognize the important black figures throughout history and the figures continuing to change the path for African Americans. Black History Month first began when The Association for African American Life and History supported a Black History Week in the second week of February 1926, so it would be concurrent with Abraham Lincoln and Frederick Douglass' Birthdays. As Black awareness was being raised after the Civil Rights Movement, Black History began to be celebrated for the entire month of February. Black History Month would not be officially recognized until 1976, by President Gerald Ford.
Here at Weddington Highschool, we want students to be aware of the importance of recognizing Black History Month and all of the notable Black Americans that have shaped our lives. When asking senior Kaylin Parks what Black History Month means to her, she said "Black History Month is a time for people of all races to celebrate and appreciate the accomplishments and successes of African Americans… It is important to me because these historical heroes have shaped America into what it is today. My family and I would not be able to live freely without their achievements." These historical heroes encourage all races to reflect during this month. Heroes such as Rosa Parks and Medgar Evers exhibited courage and valiance, so that the future generations could have the opportunities that they deserve. Cameron Allen, a junior at Weddington noted that "During this month I think about how different things could've been now if black figures such as MLK didn't step up and change." Cam says that Black History Month "shows how far everything has come". Black History Month is a time for all races to relish in the accomplishments of African Americans.
 Every year, Black History Month has a delegated theme, 2022's theme being "Black Health and Wellness". "Black Health and Wellness" acknowledges African Americans in the medical field, or those who have driven black communities to thrive. This theme aids in the rightful representation of African Americans in medicine, which is important to acknowledge because of the trials and tribulations that healthcare workers had to go through during the Covid-19 pandemic. 
Black History Month doesn't just deserve acknowledgement, it deserves commendation. Some ways that you can pay tribute to Black History is by taking the time to learn about black figures and important events in history or by simply supporting a black owned business. We all have to do our part because although we have come so far, there's still more improvements we have to make to assist in the diminishing of oppression in our society. Happy Black History Month!