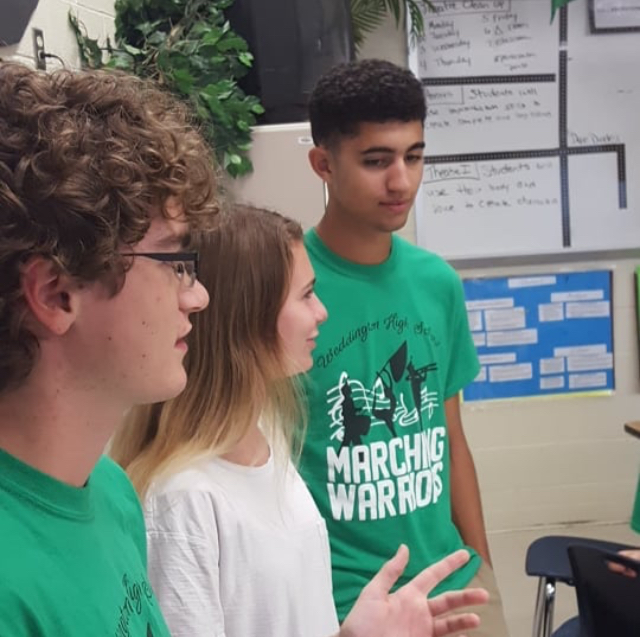 The Film Club made its debut earlier this year when it was founded by co-presidents Emma Cressman and Wil Martin. The club is dedicated to the making, watching, and reviewing of films by its members, each month focusing on a specific genre and allowing its members to explore a variety of unique styles.
When asked why they wanted to start the Film Club at Weddington, Cressman expressed "[her and Martin's] love for making films" and their wish to create a space where fellow students could manifest their shared fondness for the art of film. "The goal for the club is to allow kids [who are] passionate about film to be able to showcase their interest, and to get other students more interested and excited about the different aspects of film, whether it be directing, filming, editing, etc." says Cressman.
The month of September was dedicated to comedy films, and all members were prompted to create a short film in assigned groups based around the genre of comedy. The project had little to no restrictions and members were encouraged to base their film off of their own creative ideas and endeavors. At a September meeting, the group watched example short films and discussed what made each one humorous and individualistic. They also watched films with different types of comedy, including pictures that were spoofs and others that were aimed to be more satirical.
The officers' passion was certainly palpable in the meeting as they encouraged members to discuss and interact, making a lively atmosphere and animated environment. It was easy to tell that the majority of club members were excited to be there and were enjoying their time at the meeting, offering an interesting perspective to listen to other club members' viewpoint on the different types of comedy that were viewed.
However, despite their obvious passion and intention, there was a certain amount of disorganization within the club, ranging from different amounts of distraction in the meeting and a lack of loquaciousness in members. There were several interruptions during the meeting that sidetracked the whole group, and several disagreements that took time away from the gathering. Members are also assigned groups to work with and did not get to pick them, which comes off as a slight restriction to members' creative opportunities. While technically it creates a more organized method, it seems confining to limit people's artistic freedom in that way. These disorderly tendencies, however, are mostly likely credited to it being the club's first year at the school, and are bound to happen as the club finds its footing.
Film Club's biggest event of the year is scheduled for May, where the club will be hosting a film festival right here at Weddington. They will be presenting films made by students all over the school, and are planning on inviting parents, teachers, and students to come watch and vote on their favorite films. Based on this club's strong passion for what they do, there is no doubt that Film Club will continue sparking excitement and inspiration for film and will leave a legacy for the continuation of Weddington's filmmakers in the future.